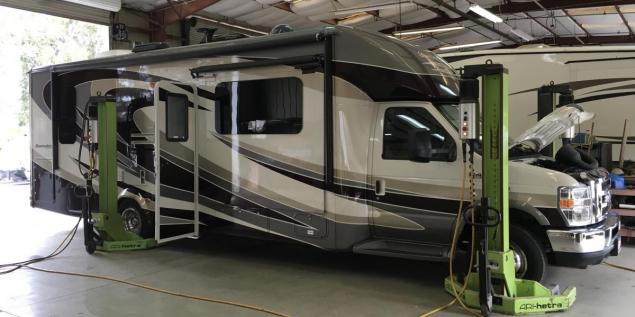 Since we started 27 years ago in 1989, we have seen just about everything RV related. This extensive history has provided us with the knowledge and training necessary to address all of your RV's needs; whether its a routine service, a complicated electrical or mechanical issue, a water leak repair, or a custom fabrication, we know how to repair it right the first time. We work on RVs of all ages and types from travel trailers to diesel pushers.
Appliance

Air conditioning (Roof and dash)

Water Heaters

Furnaces

Refrigerators

Range top/oven

Chassis

Brakes

Hitches (trailer and tow car)

Engine (gas and diesel)

Transmission

Slide outs (hydraulic  and electric)

Generators

Batteries, 110 volt and 12 volt

Video distribution and entertainment systems

Plumbing

Holding tanks (fresh water and sewage)

 

Leveling systems (hydraulic and electric)

Suspension

Body

Roof repair and replacement (rubber, fiberglass, and aluminum)

Wood rot and water damage

Collision damage

Siding (aluminum and fiberglass)

Awnings

Custom welding

Electrical

Power converter/inverters

Water pumps

Toilets

Faucets

Dump valves

Solar panels

And More!
Serving the Pismo Beach, Arroyo Grande, Santa Maria, Guadalupe, Nipomo, Oceano, Grover Beach, and San Luis Obispo areas.